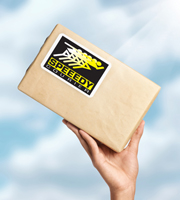 Speeedy continues to grow 25% year after year!
Speeedy Courier Service was founded in 1986 with two guiding principles in mind: provide the best combination of price and service in our industry, and hire and nurture the best employees available.
After celebrating our 30th anniversary, we continue to keep that pledge, and it has worked well for us. While maintaining an average growth rate of 25% per year, we have also remained committed to providing new services for our customers. We continue to invest in our employees to provide them with the challenges and opportunities that lead to their personal growth as well as Speeedy's business growth. Many of our employees in key positions have been with us for over a decade or more. This provides our customers with a level of security and continuity unmatched in our industry.
We now have operations in the Washington, D.C. metro area, Atlanta, GA and Orlando and Tampa, FL. Additional locations are in the pipleline, so if your city is not listed, let us know!
For a small package across town or multiple truckloads across the country, Speeedy has a solution for your transportation needs. Give us a call and let us know how we can best serve you. At Speeedy, we're large enough to serve you, small enough to know you.