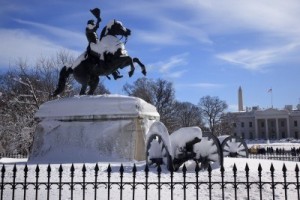 You've all probably heard by now (and may have already made a trip to the grocery store to stock up)…there's a snow storm headed toward the Washington, DC metro area. So how does that affect your deliveries with Speeedy Courier?
Well, Speeedy Courier is a 24/7/365 operation with office staff and drivers working around the clock regardless of the weather conditions. You will always reach a live person and have drivers available to complete your deliveries, no matter what the weather is like.
To give you an example, Speeedy's STAT/Medical division services everyone from pharmacies, infusion centers and DME companies to clinical labs, blood banks and hospitals. Many times, these deliveries are a matter of life and death (literally) and they are needed on a STAT basis regardless of what the weather conditions may be. In situations where the snow has made driving dangerous for the average vehicle and driver, everyone from our sales staff to upper management and owner has jumped into their AWD and 4WD vehicles to get STAT/Medical and other deliveries done.
The only thing we ask is that you understand that the deliveries may take a bit longer than usual. Several years ago, this area was hit with a snow storm that brought traffic to a grinding halt for over 10 hours. Some of you may remember this storm – it hit early afternoon and some people were stuck on the beltway until well after midnight taking over an hour to go just one mile. In situations such as this, we will do whatever we can to take back roads and alternate routes and we will always keep you in the loop with what's going on and the ETA for the delivery. Speeedy Courier will get your delivery to it's final destination safely and in the fastest time possible.
If you need something delivered – rain, shine or huge snow storm – don't hesitate to call upon Speeedy Courier to get the job done.